Regular price
Sale price
£0.00 GBP
Unit price
per
Sale
Sold out
Discover a world of adventure, relaxation, and cherished memories at Lyons Holiday Parks in 2023. With a rich history of bringing families together for almost 100 years, our parks are truly Yours to Discover.
Nestled amidst the stunning landscapes of Wales and beyond, Lyons Holiday Parks offer a diverse range of locations and accommodation options to suit every traveler's desires. From picturesque coastal retreats to countryside havens, each park promises a unique and unforgettable experience.
For families seeking a fun-filled escape, our parks are a haven of excitement. Enjoy a host of activities and amenities, from thrilling waterparks and splash zones to playgrounds, sports facilities, and family-friendly entertainment. Your little ones will create friendships, and you'll cherish the laughter-filled moments shared together.
If relaxation is on your agenda, bask in tranquility at our peaceful parks, where the gentle sounds of nature lull you into a state of bliss. Immerse yourself in the beauty of the surrounding landscapes, take leisurely strolls on the nearby beaches, or simply unwind in the comfort of your own holiday home.
With a legacy of nearly a century, we pride ourselves on providing a warm and welcoming atmosphere that has kept generations of families returning year after year. Our dedicated team is committed to ensuring your stay is nothing short of exceptional, making you feel right at home from the moment you arrive.
As we step into the year 2023, Lyons Holiday Parks eagerly awaits the opportunity to create new memories and traditions with you and your loved ones. Whether you're a couple seeking a romantic retreat, a family yearning for adventure, or friends looking for a getaway, our parks are the perfect destination for your next holiday.
Yours to Discover, Yours to Cherish - Lyons Holiday Parks invites you to make 2023 a year to remember. Create lasting memories and share special moments with those you hold dear, surrounded by the beauty of our idyllic locations. Join us for a holiday experience that's been a tradition for almost a century - we can't wait to welcome you!
DL - Leaflet 6pp
Full Colour 
1900 - Per Box - Please Specify the exact amount you wish to Order. 
Share
View full details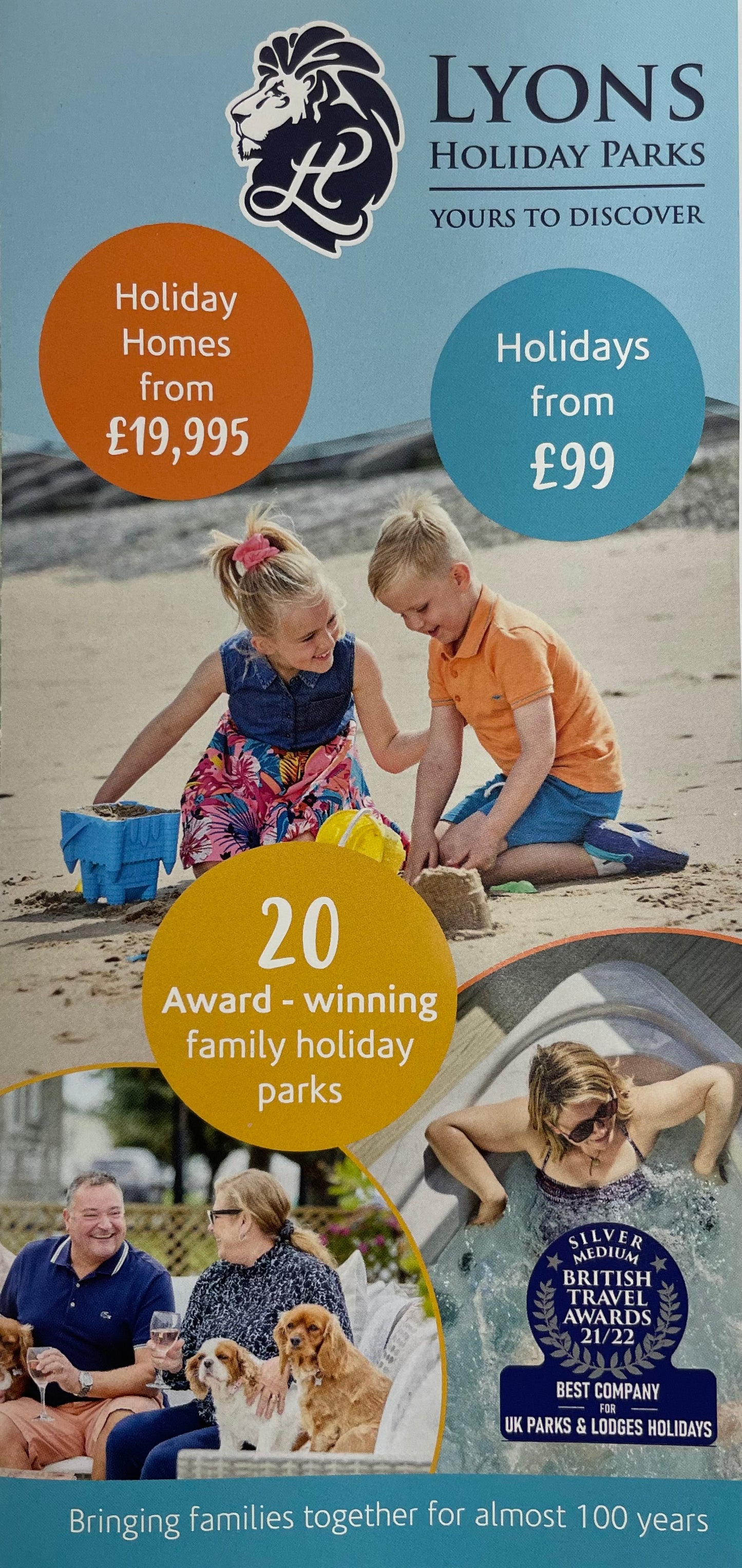 Product Info:

These leaflets come as singular copies only - If you would like a box, please enter the box qty into the ordering cell to receive a full case of leaflets