Regular price
Sale price
£0.00 GBP
Unit price
per
Sale
Sold out
DL Leaflet
Full Colour
1200 per box - Please specify the exact amount of leaflets
Embark on a journey of adrenaline-fueled excitement at Zip World South Wales, where the thrill of soaring through the air and exploring the stunning Welsh landscape merge into an unforgettable adventure. Nestled amidst the breathtaking scenery of the Snowdonia National Park, this world-class attraction is a haven for thrill-seekers and nature enthusiasts alike.
Prepare to be amazed as you ascend to breathtaking heights on the UK's first four-person zip line, the 'Titan.' Feel the rush of wind in your hair and the exhilaration of flight as you zip along, taking in panoramic views of rolling hills and lush valleys beneath you. The adrenaline doesn't stop there – take on the 'Velocity 2,' the fastest zip line in the world, where you'll reach astonishing speeds, making for a heart-pounding experience like no other.
If you're seeking even more adventure, embrace your inner explorer by venturing into the subterranean world with 'Bounce Below.' Descend into a network of massive underground trampoline caverns, illuminated with vibrant colors, providing a surreal and gravity-defying experience for visitors of all ages.
For those with a taste for challenges, 'Treetop Nets' offers an enthralling aerial adventure through the canopy, allowing you to bounce, crawl, and explore the treetops with complete freedom. The 'Fforest Coaster' is another must-try, offering an exhilarating alpine coaster ride through the woods, twisting and turning in perfect harmony with nature.
Zip World South Wales is not just about adrenaline rushes; it's also an opportunity to immerse yourself in the natural beauty of Wales. Take in the breathtaking scenery, breathe in the fresh mountain air, and experience the great outdoors like never before.
With its innovative and thrilling attractions, Zip World South Wales promises an unforgettable day out for individuals, families, and groups alike. So, whether you're a seasoned adventurer or a first-time thrill-seeker, come and discover the magic of flying, bouncing, and exploring in one of the most captivating landscapes on Earth. Zip World South Wales – where nature and adventure unite to create memories that will last a lifetime.
Share
View full details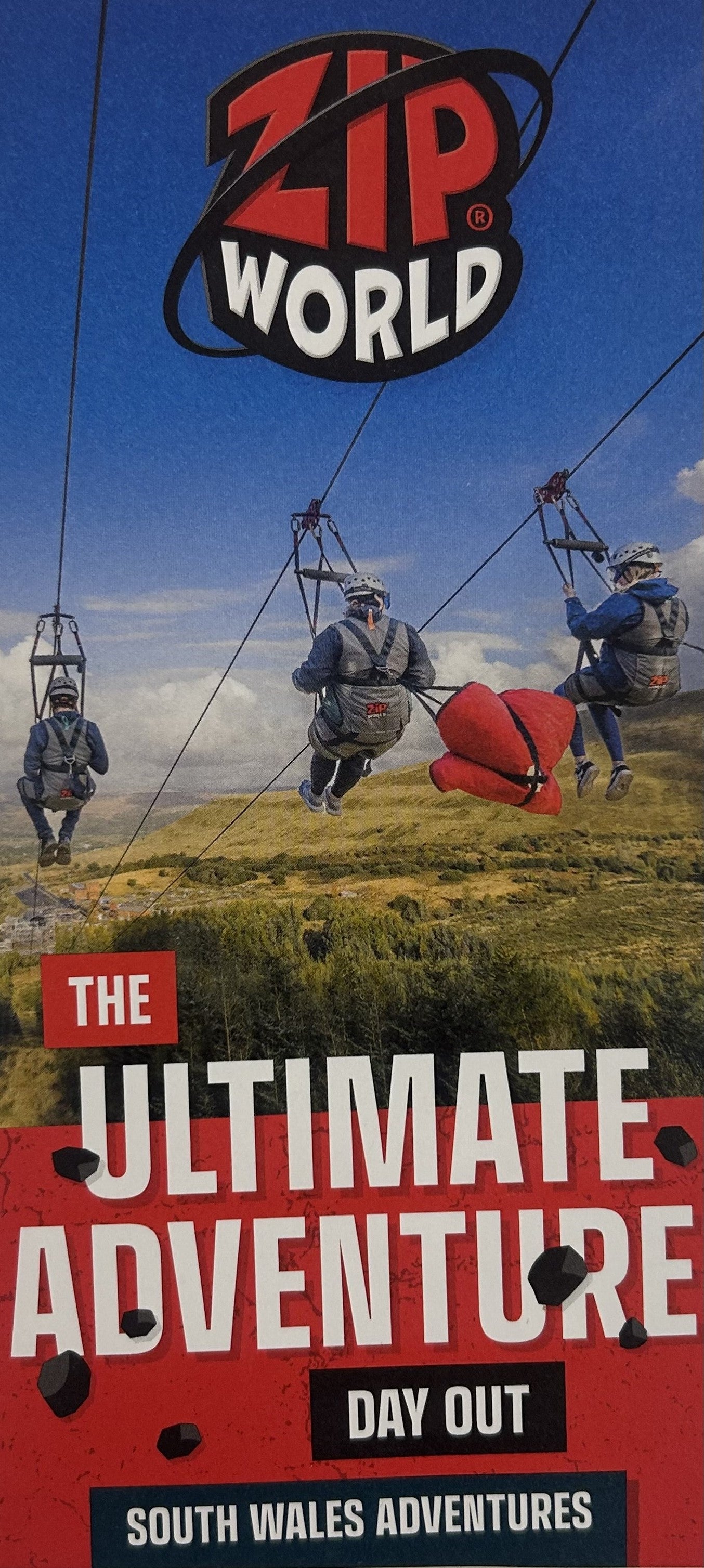 Product Info:

These leaflets come as singular copies only - If you would like a box, please enter the box qty into the ordering cell to receive a full case of leaflets