Regular price
Sale price
£0.00 GBP
Unit price
per
Sale
Sold out
Escape the hustle and bustle of everyday life and discover the enchanting world of Sweet Home Alpaca in 2023. Nestled in the picturesque countryside, Sweet Home Alpaca offers a range of unique experiences that will leave you with unforgettable memories.
Get up close and personal with these gentle and charismatic creatures through their meet and greet sessions. Learn about their fascinating lives, interact with them, and even feed them. It's an opportunity to experience the joy and serenity that these adorable alpacas bring.
For those seeking a bit more adventure, embark on an alpaca walk. Take a leisurely stroll through scenic trails, guided by these endearing animals. Feel the calming presence of the alpacas as you explore the natural beauty of the surroundings. It's a chance to connect with nature and create a bond with these lovable creatures.
Sweet Home Alpaca also offers camping opportunities, where you can immerse yourself in the tranquility of the countryside. Pitch your tent amidst rolling hills and enjoy the peaceful ambiance of the alpaca farm. Wake up to the gentle sounds of nature, spend quality time with the alpacas, and unwind in the idyllic setting.
Whether you're a nature lover, an animal enthusiast, or simply seeking a unique and memorable experience, Sweet Home Alpaca has something for everyone. The warmth and hospitality of the staff ensure that your visit will be filled with joy and wonder.
So, pack your bags, bring your sense of adventure, and let Sweet Home Alpaca be your destination for unforgettable experiences in 2023. Create lasting memories, make new furry friends, and bask in the beauty of nature as you embark on this delightful alpaca adventure.
DL Leaflet 6pp 
Full Colour 
500 per box 
Please Specify the exact amount toy wish to order. 
Share
View full details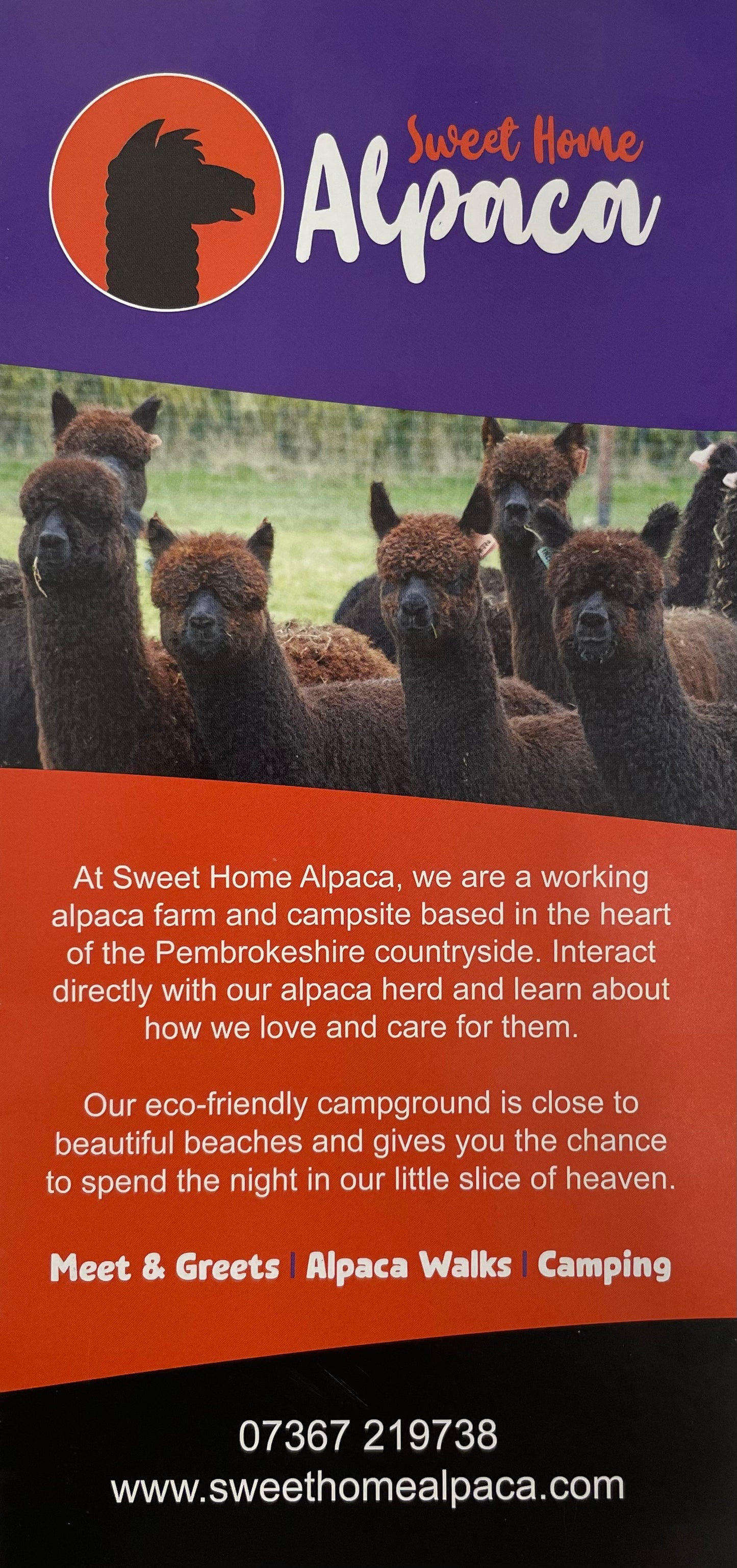 Product Info:

These leaflets come as singular copies only - If you would like a box, please enter the box qty into the ordering cell to receive a full case of leaflets