Regular price
Sale price
£0.00 GBP
Unit price
per
Sale
Sold out
Step into the vibrant world of entertainment at Swansea Grand Theatre, where the stage comes alive with an electrifying lineup of performances in the Summer/Autumn of 2023. Prepare to be dazzled and captivated as this iconic venue presents a diverse range of shows that cater to all tastes and interests.
From breathtaking musicals to side-splitting comedies, from thought-provoking dramas to family-friendly productions, the Swansea Grand Theatre's What's On Guide for Summer/Autumn 2023 is a treasure trove of cultural delights. With each performance, you'll be transported to different worlds, swept away by powerful storytelling, and immersed in unforgettable performances.
Experience the magic of live theater as talented actors and actresses bring compelling characters to life before your eyes. Lose yourself in the spellbinding melodies and jaw-dropping choreography of spectacular musical productions that will have you humming along and tapping your feet.
Laugh until your sides ache as renowned comedians take to the stage, serving up a generous dose of laughter and hilarity. Let your imagination run wild with gripping dramas that explore the depths of human emotions and provoke thought long after the curtains close.
The Swansea Grand Theatre is not only a haven for adults seeking memorable evenings, but also a place of enchantment for families. Treat your loved ones to unforgettable matinee performances and share the joy of live theater with the next generation. From timeless classics to new and exciting productions, there's something for everyone to enjoy.
Be sure to grab a copy of the What's On Guide for Summer/Autumn 2023 at Swansea Grand Theatre and secure your tickets early, as these exceptional performances are bound to sell out quickly. Whether you're a theater aficionado or a newcomer to the world of live entertainment, Swansea Grand Theatre promises an unforgettable experience that will leave you craving more. Don't miss out on the magic and excitement that awaits you at Swansea Grand Theatre this Summer/Autumn! 
A5 Guide -  36pp 
Full colour 
100 - Per Box 
Please Specify the exact amount you wish to order.
Share
View full details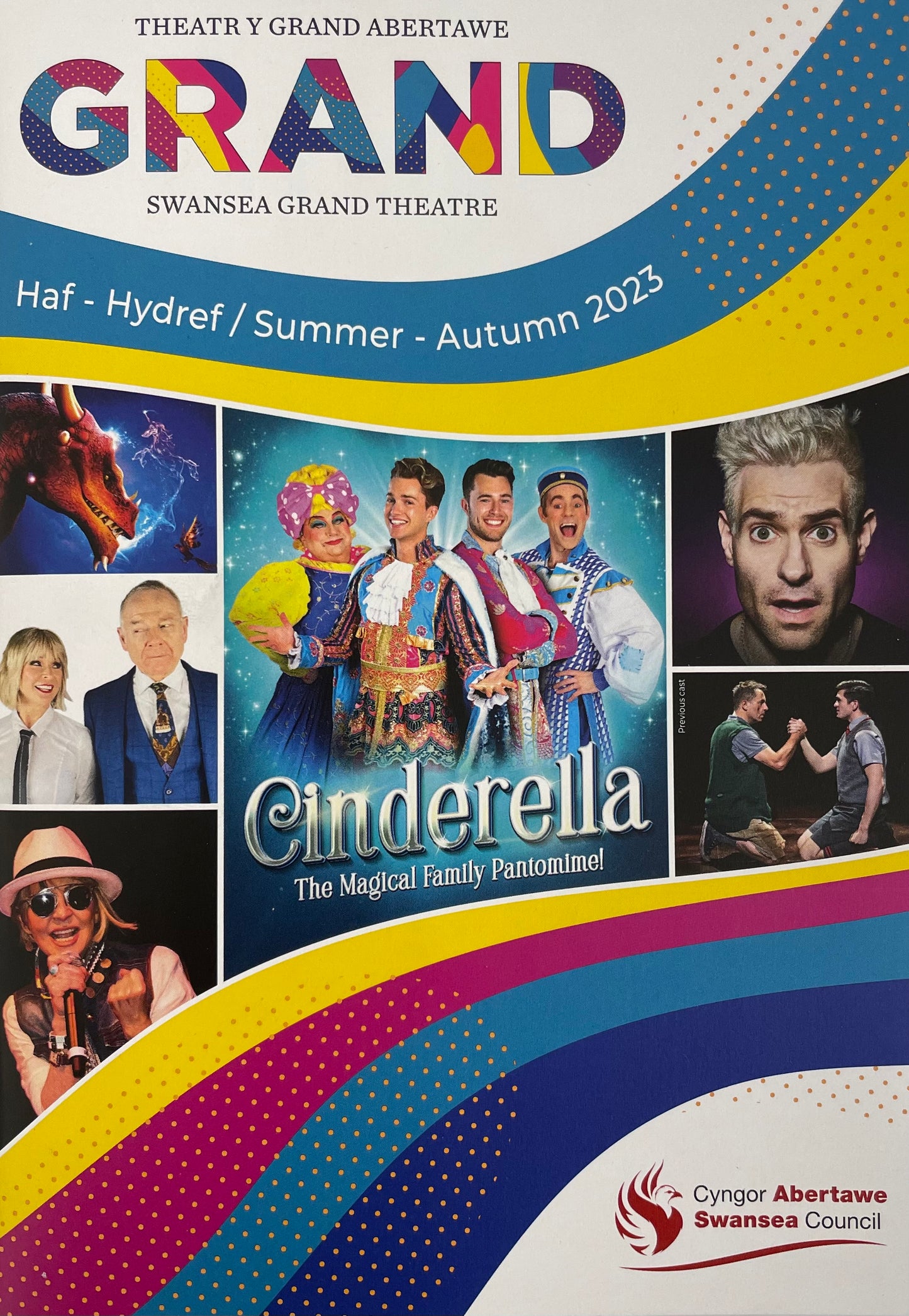 Product Info:

These leaflets come as singular copies only - If you would like a box, please enter the box qty into the ordering cell to receive a full case of leaflets