Regular price
Sale price
£0.00 GBP
Unit price
per
Sale
Sold out
Dive into a world of aquatic exploration and breathtaking natural beauty with Paddle West Adventures in Pembrokeshire in 2023. Discover the thrill of kayaking along the stunning coastlines, explore hidden coves, and experience the magic of this captivating corner of Wales like never before.
Paddle Your Way: Whether you're an experienced paddler or a first-timer, Paddle West Adventures offers a variety of guided tours and experiences tailored to your skill level. Choose your adventure and embark on a journey that promises both excitement and tranquility as you paddle through the pristine waters of Pembrokeshire.
Coastal Wonders: Prepare to be awestruck by the mesmerising coastal landscapes that unfold before you. Pembrokeshire's rugged cliffs, secluded beaches, and clear turquoise waters provide the perfect backdrop for a unique and unforgettable kayaking experience.
Wildlife Encounters: Get up close and personal with the rich marine life that calls Pembrokeshire home. Keep your eyes peeled for playful seals, majestic dolphins, and a variety of seabirds soaring above, creating magical moments that connect you with nature in its purest form.
Expert Guides: Our friendly and knowledgeable guides are not only experts in kayaking but also passionate about sharing their love for Pembrokeshire's natural wonders. Learn about the local ecology, history, and folklore as you explore the hidden gems of this pristine coastline.
Memories in the Making: Whether you're seeking a thrilling adventure, a serene escape, or an opportunity to create unforgettable memories with loved ones, Paddle West Adventures in Pembrokeshire is your gateway to the best of both worlds. From solo traveler's to families and groups, everyone is invited to share in the magic of paddling through the breathtaking landscapes of this coastal paradise.
Book Your Adventure: Don't miss this incredible opportunity to paddle the West in 2023. Secure your spot with Paddle West Adventures and prepare for a journey that will leave you with a sense of awe, a connection to nature, and memories that will last a lifetime. Explore Pembrokeshire from a unique perspective and experience the beauty of its coastline with Paddle West Adventures.
DL - Leaflet 6pp
Full colour 
667 - Per Box 
Please specify the exact amount you wish to order. 
Share
View full details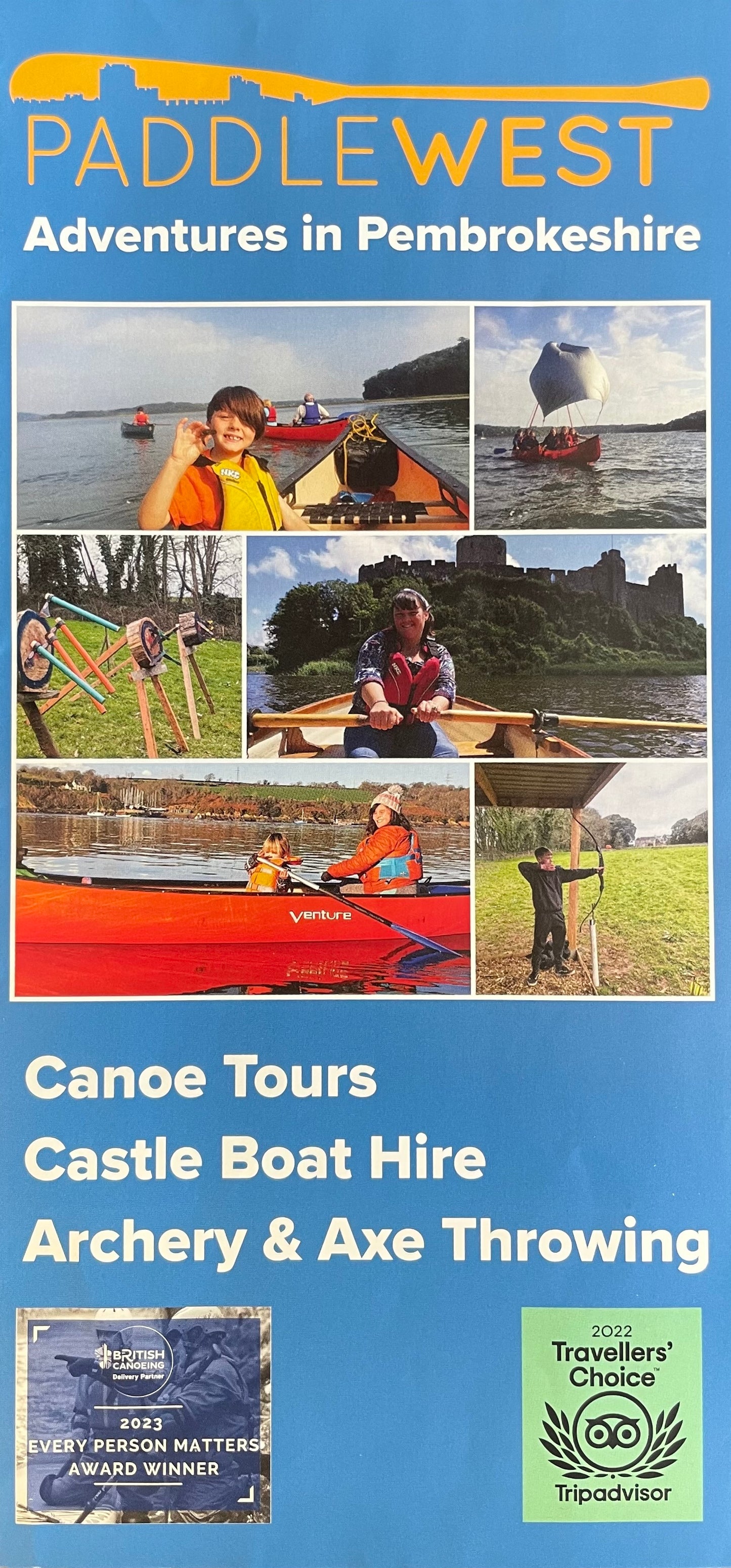 Product Info:

These leaflets come as singular copies only - If you would like a box, please enter the box qty into the ordering cell to receive a full case of leaflets