Regular price
Sale price
£0.00 GBP
Unit price
per
Sale
Sold out
Discover more than just a view at the Clifton Suspension Bridge Visitor Center! Nestled on the banks of the Avon Gorge, this iconic landmark is more than a breathtaking sight; it's a gateway to a world of history, engineering marvels, and captivating stories.
Step inside the Visitor Center and be transported through time as you explore the fascinating exhibits that unveil the bridge's rich heritage. Learn about the vision and determination of Isambard Kingdom Brunel, the brilliant mind behind this architectural masterpiece. Delve into the construction process, marvelling at the ingenuity and challenges faced by the Victorian engineers who brought this incredible structure to life.
But the experience doesn't stop with history; it comes alive through interactive displays and engaging multimedia presentations that cater to visitors of all ages. Engage your curiosity and deepen your understanding of how the Clifton Suspension Bridge has become an enduring symbol of Bristol and a feat of engineering admired worldwide.
For the adventurous souls, venture to the viewing platform, offering awe-inspiring panoramas of the Avon Gorge and the picturesque city of Bristol below. Capture the perfect photograph or simply soak in the grandeur of the surroundings, appreciating the sheer brilliance of Brunel's creation.
Beyond the history and vistas, the Visitor Center is a hub of community engagement and cultural activities. Discover a calendar of events that celebrate art, music, and local talent, bringing people together to appreciate the bridge's significance in modern times.
Whether you're a history enthusiast, an engineering aficionado, or a family seeking an educational and exciting outing, the Clifton Suspension Bridge Visitor Center is not to be missed. Unearth the stories behind the stone and iron, and be inspired by the enduring legacy of this iconic landmark. It's more than just a view; it's an experience that will leave you in awe of human ingenuity and the power of visionary ideas.
Full Colour
DL -  4pp Leaflet 
360 - Per Box 
Please specify the exact Quantity you wish to receive .
Share
View full details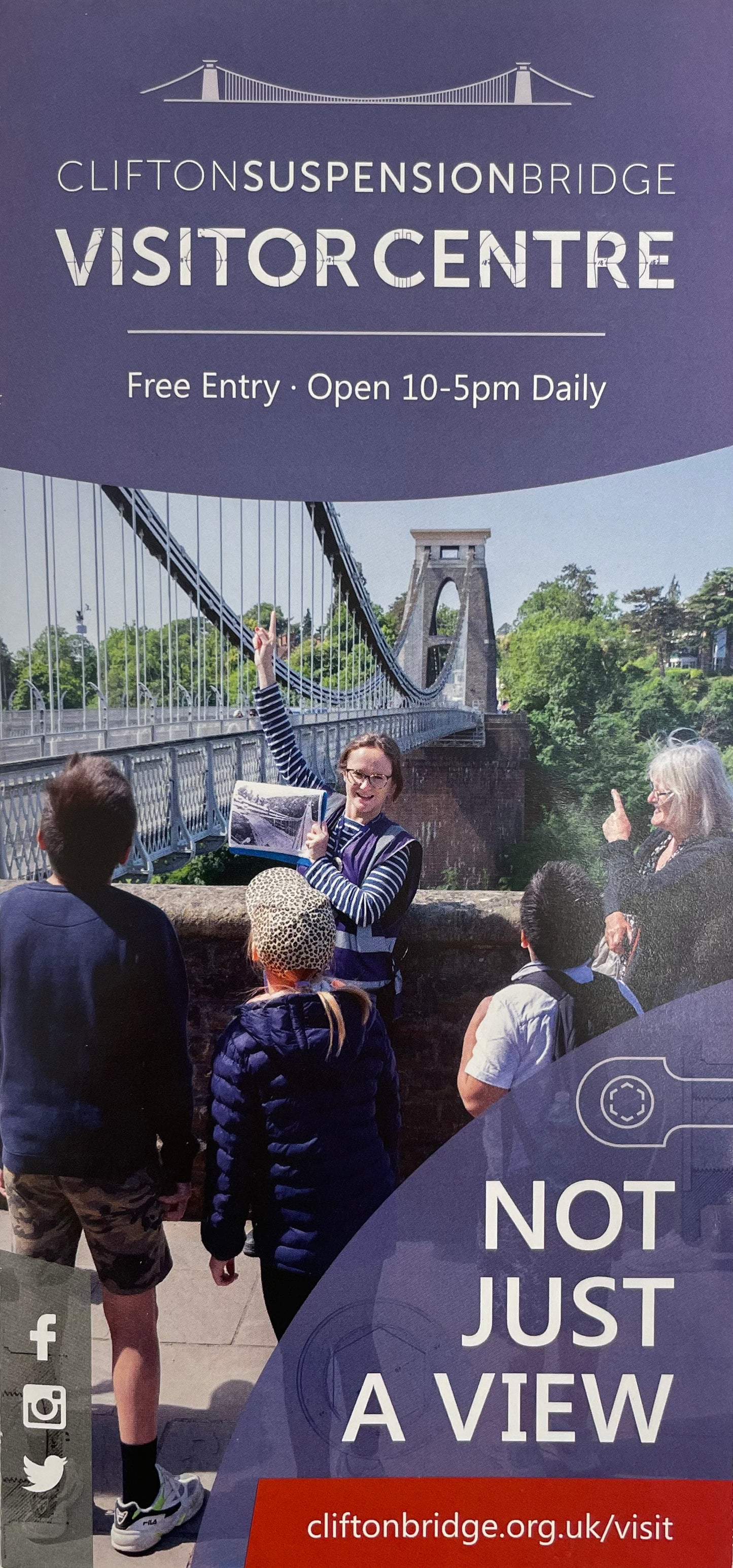 Product Info:

These leaflets come as singular copies only - If you would like a box, please enter the box qty into the ordering cell to receive a full case of leaflets