Regular price
Sale price
£0.00 GBP
Unit price
per
Sale
Sold out
Embark on a sensational cultural odyssey from October to December 2023 at Cedars Hall, the epicentre of artistic brilliance in the heart of the countryside. Delve into a rich tapestry of musical genres and captivating performances that will ignite your senses and leave you spellbound.
Classical Elegance: Experience the timeless beauty of classical music as world-renowned musicians grace our stage with symphonies that transcend time. Be mesmerised by the exquisite melodies of masters like Mozart, Beethoven, and Tchaikovsky, performed by virtuosos who breathe life into every note.
Brass Band Spectacular: Let the resounding brass and rhythmic beats fill the air as spectacular brass bands from near and far unite for unforgettable performances. Feel the energy and power of this cherished musical tradition as it reverberates through Cedars Hall.
Rock & Pop Bliss: Get ready to rock as we bring you the hottest acts in the rock and pop scene. From chart-topping hits to soul-stirring ballads, let the music move you in ways you never imagined. Join us for electrifying nights that will have you singing along and dancing in the aisles.
Jazz Allure: Lose yourself in the enchanting world of jazz, where improvisation and soulful melodies come together to create magic. Our lineup of jazz maestros will take you on a captivating journey through the genre's history, from smooth standards to bold innovations.
Choirs in Harmony: Let the power of collective voices lift your spirits as choirs of angelic voices harmonise in the acoustically perfect surroundings of Cedars Hall. Experience the sheer joy of choral performances that touch the heart and uplift the soul.
Comedy and Laughter: Get ready to laugh until it hurts as top-notch comedians bring the house down with their wit and humour. Comedy nights at Cedars Hall are a guaranteed recipe for a night of endless laughter and unforgettable entertainment.
Inspiring Talks: Stimulate your mind with insightful talks by captivating speakers. Explore a diverse range of topics, from art and science to literature and beyond, as thought-provoking discussions open new horizons of knowledge and inspiration.
Theatrical Excellence: Immerse yourself in captivating narratives and breathtaking performances as we showcase the very best in theatre. From timeless classics to cutting-edge contemporary productions, let the world of drama unfold before your eyes.
Join us at Cedars Hall this Spring, Summer, and Autumn for an unforgettable lineup of events that celebrate the beauty and diversity of the arts. Get your tickets now and be a part of the magic at Cedars Hall!
A5 Leaflet 8pp Leaflet
Full Colour 
550 - Per Box 
Please Specify the exact amount you wish to order. 
Share
View full details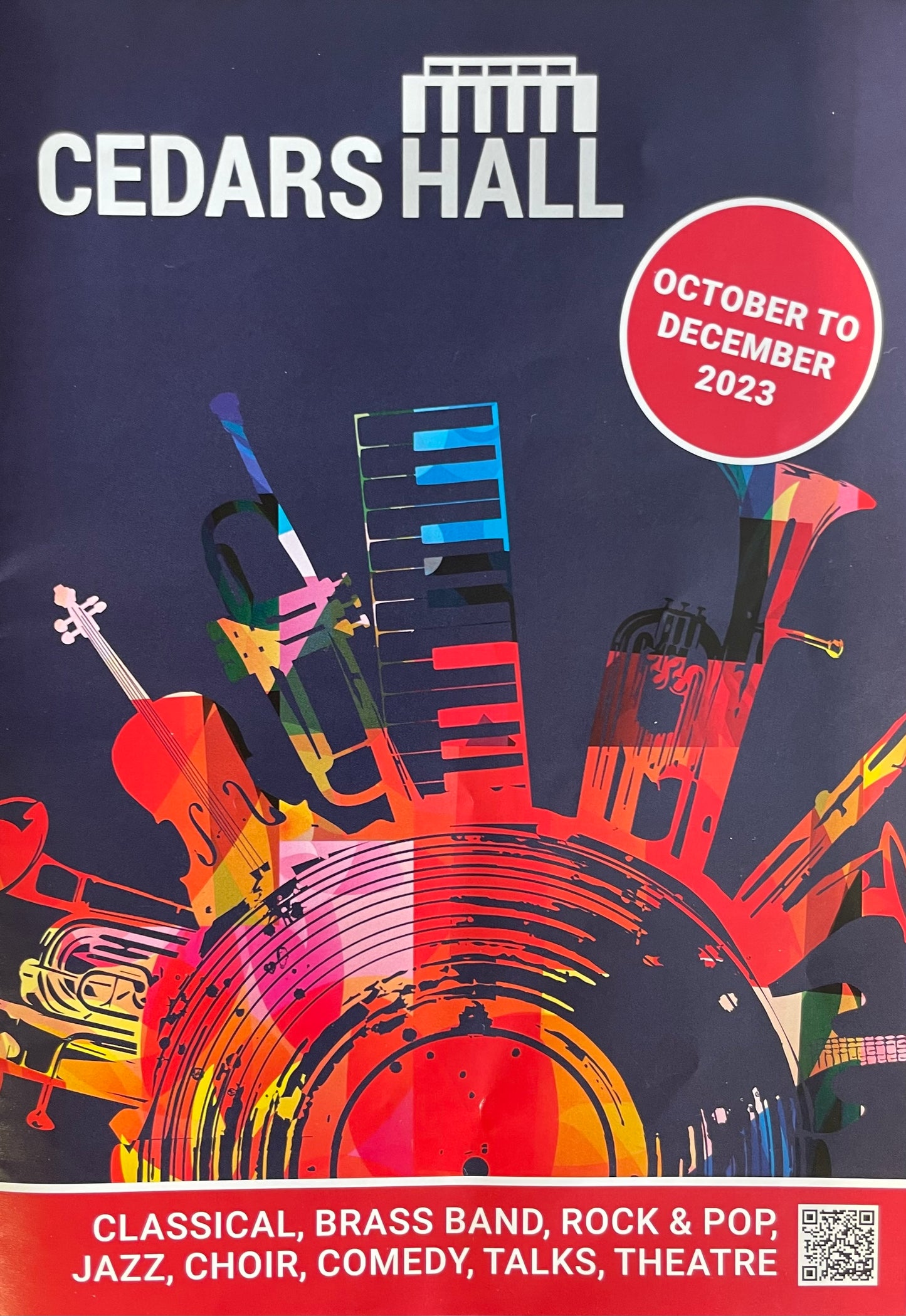 Product Info:

These leaflets come as singular copies only - If you would like a box, please enter the box qty into the ordering cell to receive a full case of leaflets