Regular price
Sale price
£0.00 GBP
Unit price
per
Sale
Sold out
Step back in time and immerse yourself in the rich heritage of Bridgwater at Bridgwater Museum - Home of Robert Blake. In 2023, this captivating museum invites you to discover the fascinating history of this historic town and the legacy of one of its most illustrious figures, Robert Blake.
Step into the world of the renowned admiral, Robert Blake, and explore the artefact , documents, and memorabilia that chronicle his life and contributions to British naval history. Learn about his daring exploits, strategic brilliance, and unwavering commitment to his country, all of which earned him a place of honour in the annals of history.
Beyond Robert Blake's remarkable story, Bridgwater Museum invites you to delve into the town's captivating past. Wander through the exhibits that showcase Bridgwater's rise as a bustling port town, its involvement in significant historical events, and its vibrant cultural heritage.
From interactive displays to thought-provoking exhibits, the museum offers a journey through time that captivates visitors of all ages. Engaging and informative, it's an experience that encourages a deeper understanding and appreciation of Bridgwater's role in shaping the nation's history.
With its warm and welcoming ambiance, Bridgwater Museum is not just a repository of artefact, but a place where stories come to life and the past is brought into the present. From maritime enthusiasts to history buffs and curious explorers, there's something for everyone to enjoy and learn.
So, whether you're a local seeking to uncover your town's roots or a visitor eager to learn about Bridgwater's remarkable heritage, Bridgwater Museum - Home of Robert Blake is the destination for you in 2023. Embark on a journey through time, and let the spirit of history guide you as you discover the rich tapestry of Bridgwater's past.
DL - Leaflet 6pp 
Full Leaflet
2500 - Per box 
Please Specify the exact amount you wish to Order. 
Share
View full details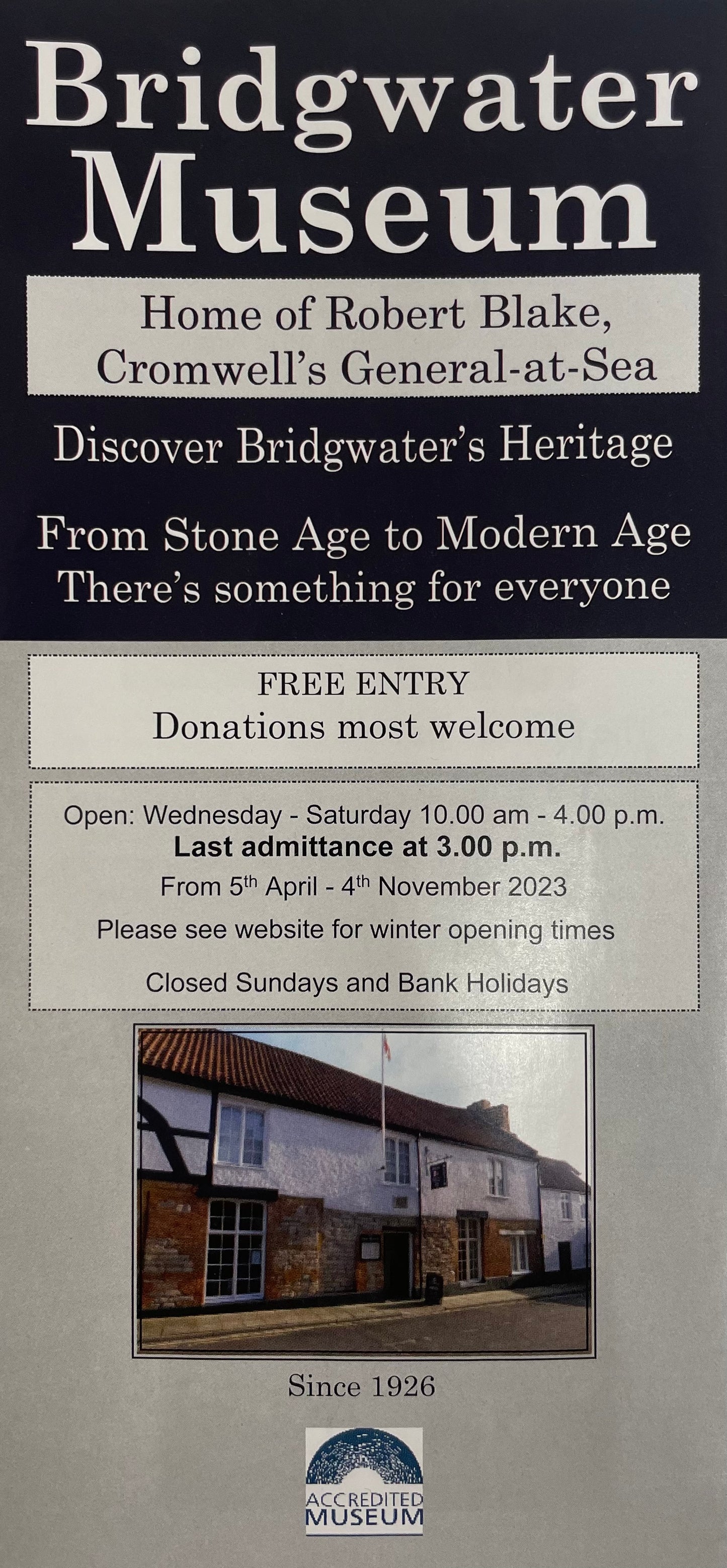 Product Info:

These leaflets come as singular copies only - If you would like a box, please enter the box qty into the ordering cell to receive a full case of leaflets